Friedrich Fischer (American Name "Nathan")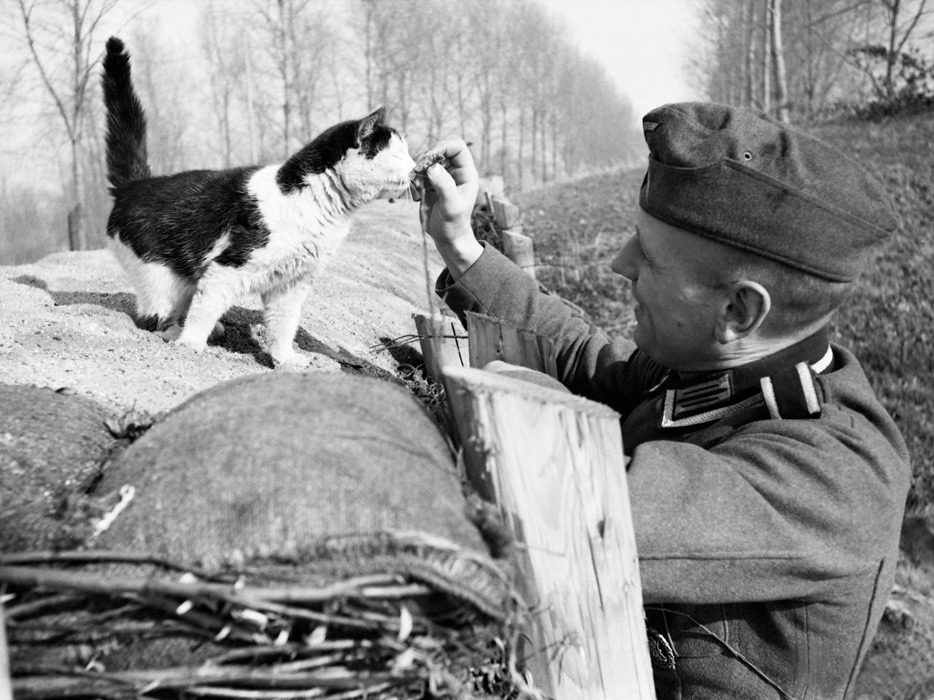 Quote : "Obwohl ich Juden hasse, wird diese Katze unter meiner Aufsicht immer sicher sein!"
Artyom Yeltsin (American Name "Owen")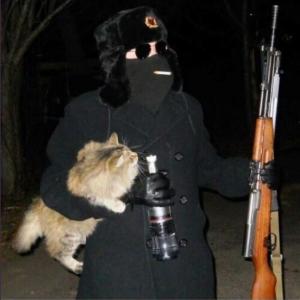 Quote : "Etot kot zdes', chtoby byt' lyubimym. On dolzhen byt' v bezopasnosti, kak nezhnaya mama!"
Ginishima Sinkano Kun~ (American Name "Alec")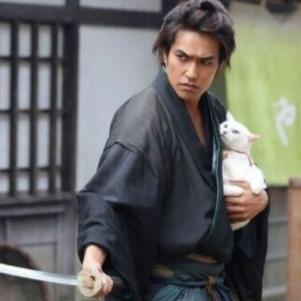 Quote : "Neko wa watashitachi no ainotameni koko ni imasu, soshite kore mo reigaide wa arimasen!"
Battle Cries
Friedrich Fischer : "Diese kleinen Katzchen werden das Letzte sein, was Sie sehen!"
Artyom Yeltsin : "Vashu sud'bu reshil moy drug, kot!"
Ginishima Sinkano Kun~ : "Kawaii neko wa jodan to shite koko ni imasen, karera wa watashitachi no kamidesu!"
No more cats will cry. All are safe.
Fear the cat protectors, for noone knows their true power.
Theme Song
Lore behind Theme Song
(Moskau is a German song but its about Russia. Ginishima Sinkano Kun is an honorary Cat protector, so his culture was not included in the theme. It was chosen as their theme due to a peace treaty between Friedrich and Artyom.) due to their distrust, they needed something to tell eachother they mean no harm. Thus, Moskau was chosen. They lived in peace, until Ginishima Sinkano Kun came into their domain with a new cat. the cat became a new thing to protect, and Ginishima Sinkano Kun was a new protector. From there, the protected every cat in danger of crying. "No more cats will be harmed in this land. Motherland, Fatherland, and the Land of the Rising Sun, protect all cats at all costs. Set in stone, I rest my case." - Ginishima Sinkano Kun. The trio to end cat-violence along the rich lands of the Earth.)
Cultural Distrust and Lore behind the Cat Protectors
every member of the cat protectors showed a significant distrust towards one another, until Friedrich made the descision to set aside their cultural differences for true cat-peace. "We tried to stay away from eachother, but we soon realized it was inefficient" - Friedrich Fischer. Next, Artyom Yeltsin decided that he would accept a peace treaty from Friedrich. Artyom and Friedrich lived in peace until Ginishima Sinkano Kun came through to their domain. Ginishima Sinkano Kun showed true love for cats, and had one in his arm. Artyom threatened Ginishima with his SVT-40, and Friedrich threatened with his Muaser c96. Ginishima didn't flinch. "Kill me, so long as you respect the cat enough to protect him" said Ginishima. Artyom realized that Ginishima had a genuine liking for cats. they trained in unisen, making it clear that their distrust meant nothing. "It is Gods job to forgive Cat-Haters, but it is my job to send them to God" - Artyom Yeltsin. It was from there that they found Nirvana in having loved cats. Culture aside, cats were at steak. And they would be without hope if another cat goes crying.
Saved Cats Gallery (warning : SAD )
Small Cowboy Kitty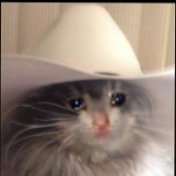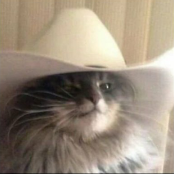 Phat Kitty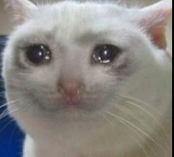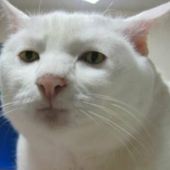 Look at Me Kitty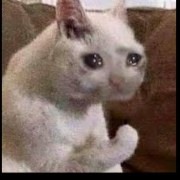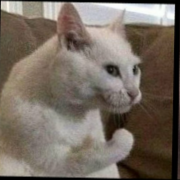 Phat Kitty's Brother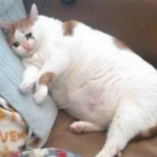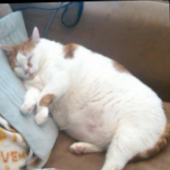 Cat that turned out to be a, uhhhhh, Giddy Pig? Gibby Pig? is that what they called it?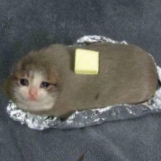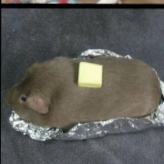 Anyways, these cats were all saved by the three saviours. Thank them, and let them live with utter pride. contact the Cat Protectors at "Nezperidian" on IFunny.
Conversation of the Cat Protectors, Documented
Artyom : Oi, my Vadim Sinkano Kun.

.

Ginishima : Ah yes, Artyom. What must you ask of me?

.

Artyom : Well, you ever wonder how i am the only person here who isn't part of the axis?

.

Ginishima : No such thing has crossed my mind, young Russian. We stand as one, and I won't see any reason to see you as an enemy.

.

Friedrich : well, I have. its been a boring time, protecting these cats and all. Gives you a lot to think about, friend.

.

Artyom : Am glad that i am not only one. Now, any of you wanna go shoot some targets for quick practice?

.

Ginishima : Ai, but do you have any Tameshigri? I have to practice prescision cutting.

.

Artyom : Ah yes I do. You left it here after you went home.

.

Ginishima : ah ok. where is it.

.

Artyom : ...Friedrich? You know where it is?

.

Friedrich : Yeah. its in the back of the B-10 Spirit Bomber.

.

Ginishima : uhhhhhhh...

.

Artyom : We have a spirit bomber?!?

.

Friedrich : Yes, are we going to shoot or what?

.

Artyom : Fine then, I geuss we will go shoot. SVT-40 and Dragunov SVD ready for me. What about you Ginishima?

.

Ginishima : I brought a Katana, a wakizashi, and a Tanto. How about you, Friedrich?

.

Friedrich : Iv'e brought a Luger and a Panzerfaust.

.

Artyom : Friedrich you can't bring a Panzerfaust.

.

Friedrich : Why not :(.

.

Artyom : You know already, now put it up.

.

Ginishima : Weird germans. Atleast they didn't get the Uranium treatment.

.

Artyom : Ai, shouldn't of came at us in the winter eh.

.
End
Go ahead and play some HTMLsnek for sitting through this website. Have fun nerd.